By Gabby Grossman '16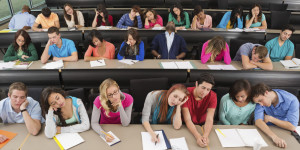 Wyoming Seminary senior Brady Slinken '16 of Shippensburg, Pa., was diagnosed with Stage Three Senioritis yesterday afternoon by Nurse Blaum.
Brady had not taken his backpack out of his car for almost two months before his parents began to notice certain unusual quirks in his behavior. Mrs. Slinken sensed that "something wasn't right" when "our boy woke up one morning feeling refreshed."
"The usual bags under his eyes started fading," Mr. Slinken added, "I said to my wife, 'Honey, I think it's time we take him to see someone.'" And thank goodness they did. One day after a particularly cheerful "good morning" and an eerily genuine smile from their son, Mr. and Mrs. Slinken gently suggested to Brady that they all go talk to the school nurse.
After listening carefully to his symptoms, Nurse Blaum knew the diagnosis immediately: Senioritis, Stage Three. Judging by Brady's slip from a 4.7 GPA to a 4.2 at midterms, Nurse Blaum estimated that Brady had contracted the illness in late December, soon after he had submitted all of his college applications.
Unfortunately, there is no cure, and due to such late detection, Brady does not have much time left. Brady's prognosis conservatively offers him only three more months.
There is hope to extend Brady's time with treatment through both supervised study hall and mandatory conferencing. However, should Brady advance to Stage Four, which has a survival rate of 0%, there will be no turning back.
The Slinken family asks for privacy and your prayers during this difficult time. To donate, call 1-800-SENIOR. T-shirts sporting the slogan "Brady Bailout" will be on sale during Bell 4, 5, and 6 Lunch. All profits will go to senioritis research.