By Ms. Miller's Journalism Class 
Security and safety has always been an issue in schools all across America. With more and more violence everyday it has never been a more pressing problem. The question remains are some schools being careful enough?
View of the outside of the KCCA, bordered by a public sidewalk. Photo courtesy of Alex Peck '17
As a school within a city, Wyoming Seminary (SEM) tries to take as many precautions as possible. With Security guards patrolling the ground day and night as well as a fob system of electronic access keys only given to students and faculty. Students also utilise a text program where they are alerted of possible security issues and lockdowns.
However, being in a city does have its consequences. Sprague Avenue, a street that goes directly through campus and although cars cannot access it, the street is technically public property. This allows anyone to walk on Sprague freely but not the rest of campus as it is private property.
Members of SEM's faculty believe the school is safe right now, but previously, security was an issue. Mr. Randy Granger, Dean of Academics, said: "There was an issue before the Sprague doors were fob protected. People who shouldn't be inside Sprague walked in the building sometimes. Faculty members immediately recognized that they shouldn't be here so they escorted them outside of the building." Since then preventive measures have been improved.
Cameras are a relatively new security addition that Mr. Jay Harvey '80, Upper School dean, insists are monitoring everything. He said: "Every entrance has one security camera so we can look who's coming and going. The school is working on… [putting] more external cameras on campus." Hopefully new cameras can be placed on some of the older buildings as well.
On the use of fobs, that are used to access every building on the SEM campus, there is mostly positive feedback. Granger states: "They're annoying sometimes, but are a necessity in order to ensure safety." The downsides of these keys is how they are easy to lose and how they must be shut off if lost.
Perhaps one of the most overlooked preventative measures at SEM is simple common sense. "I have been on campus for 13 years and I can just recognize some people that just don't belong, " says Jeff Sims, the head groundskeeper, "I report it to the security, and they take care of it."
Despite all these measures, there are still occasional questions raised about the security of the campus. "Many people who live around Kingston walk around Sprague Ave at night," said Quang Phan  '17. "I didn't know most of them." This is because of the previously mentioned fact that the public sidewalks on Sprague Avenue are technically public property, enabling anyone who wants to to wander down them freely.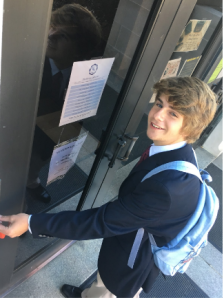 James Reilly '17 using SEM's Fob System. Photo courtesy of Connor Evans '17.
However, most feel that the measures are enough to prevent any issues in campus safety. "I don't think I have encountered any security issue," said Sims. " I have been living in the area for 13 years, and I feel really safe here."