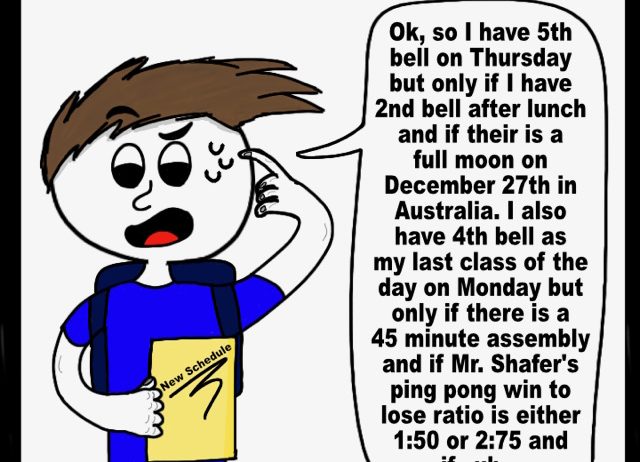 By Eli Idec '18
Even at the lower school, I remember hearing stories about the mysterious tunnels underneath sem. Perhaps the most far-fetched was of a tunnel connecting the lower school all the way to upper school, but as a young middle school student the myths seemed like a possible reality. A few weeks ago while signing up for activities at the class meeting, I noticed one that caught my attention, the "Labyrinth Walk." Without thinking I signed up, hoping I would finally get to the famed tunnels. Instead, we walked through a chalk "labyrinth" on back campus created by Mr. Pons. While the experience certainly was enlightening, it was not exactly was I had expected.
Intrigued, I set about find if there even were tunnels under the school. So, with the help of Mrs. Swaback, I got in touch with Benjamin Schall, the physical plant manager for Wyoming Seminary. Generously, Mr. Schall agreed to share a little information. According to him the "tunnels are only utility passages that allow utility lines such as steam lines to interconnect some buildings on campus." While there is nothing "mysterious" about them these tunnels are still intriguing. Unfortunately they are "off-limits for access by students and most emplyees" according to Schall.
In an effort to learn even more about the tunnels, I asked Mrs. Swaback who has ventured into them before. She said that they were much bigger than she thought, and that it was very cool down there. "Some were very large and some were so narrow you had to squeeze through." Although I will most likely never enter the tunnels, several other students have shown interest in exploring them. Maybe someday we will be able to convince the administrators to allow us to venture into the tunnels. Until then, they remain a mystery to the students of Wyoming Seminary.
Next time you are walking to class, pause and think: there just might be a tunnel underneath your feet.
Jim Liu '18
The Department of Performing Arts at Wyoming Seminary hosts three major events every year. After Fall Musical "Once Upon a Mattress" and Winter Workshops, Sem actors and actresses will perform the Spring Play on Friday, April 28th and Saturday, April 29th at 7:30 pm in Buckingham Performing Arts Center (BPAC). This year's play is "THE NERD" by Larry Shue. The classic comedy is set in late 1979 in Terre Haute, Indiana. Willum Cubbert, a young architect, faces a dilemma after the surprise visit of Rick Steadman. Steadman is an ex-GI who saved Haute's life in Vietnam while struggling to figure out what he wants with his life. Directed by Mrs. Ellen Sherry, the cast consists of six Upper School students and one Lower School student.
Along with the spring play, there will be a spring concert. Wyoming Seminary's annual Spring Concert will take place at 2:00 pm, April 23rd in Kirby Center for Creative Arts (KCCA). This year's program features performances by Wyoming Seminary's Chorale, Madrigal Singers, String Ensemble, and Orchestra.
As a special addition,"Brundibar", the children's opera, will be performed by Sem Madrigal Singers and select members of String Ensemble, Orchestra, and Lower School Choir. It was composed in 1938 by Hans Krasa, and lyrics by Adolf Hoffmeister, "Brundibar" tells the story of Aninka and Pepicek—two children who are on a quest for milk with the hope to cure their sick mother. This Czechoslovakian opera premiered in Prague under German control and was performed in one of the concentration camps by many of its victims during World War II. It reflects the battle between good and evil and the triumph of justice.